Register for one or more of our free webinars to see what you can learn about your ancestors in print.



Access to the webinars is free but you

will need to register to attend each webinar or to watch the recording.




To register click on the relevant button.



The webinars start at 8.00pm London, UK time. To see the time where you are use the
Time Converter.


You can watch a recording of each webinar for two weeks after it is broadcast.

Directories and Poll Books:
Name-rich resources for the 18th century in the library of the Society of Genealogists and elsewhere.
Else Churchill Society of Genealogists, London
Discover how and why you should find and use name-rich lists which show where your ancestors lived and what they did in their lives. Find out how they can supplement parish and other records of the period.

News from Home:
Finding the diaspora in newspapers.
Aoife O'Connor Head of Project and Programme Management at FindMyPast and the British Newspaper Archive
Explore what can be learned from newspapers about the lives of those who left Britain, whether they were stationed abroad or emigrated entirely. Newspapers can also reveal what drew them to leave home and how they adapted to life in a new land.

Ephemeral Names:
Printed ephemera as a resource for one-name historians with particular reference to the John Johnson Collection at the Bodleian Library, Oxford.
Julie Anne Lambert Bodleian Library, Oxford
A look at the various genres represented by the term 'ephemera' and the sorts of names that researchers might expect to find (tradesmen, actors and entertainers, printers, artists, politicians, etc.). Learn about how librarians and users can search the John Johnson Collection and how to find similar resources elsewhere.

In Print – Here, There and Everywhere.
Newspaper Collections in National Libraries worldwide.
Michelle Patient Genealogist and DNA consultant for the Australian SBS TV series Every Family has a Secret.
National Libraries around the world are an invaluable resource for researching our families. Their historic newspaper collections are well worth diving into for the many treasures they hold. Many are free to view. Join us as Michelle Patient takes us on a global tour and shares some useful tips and hints for searching your ancestors on these sites.
Sign up to our mailing list to be notified of future events and get a free download of our 50-page booklet, Researching Surnames.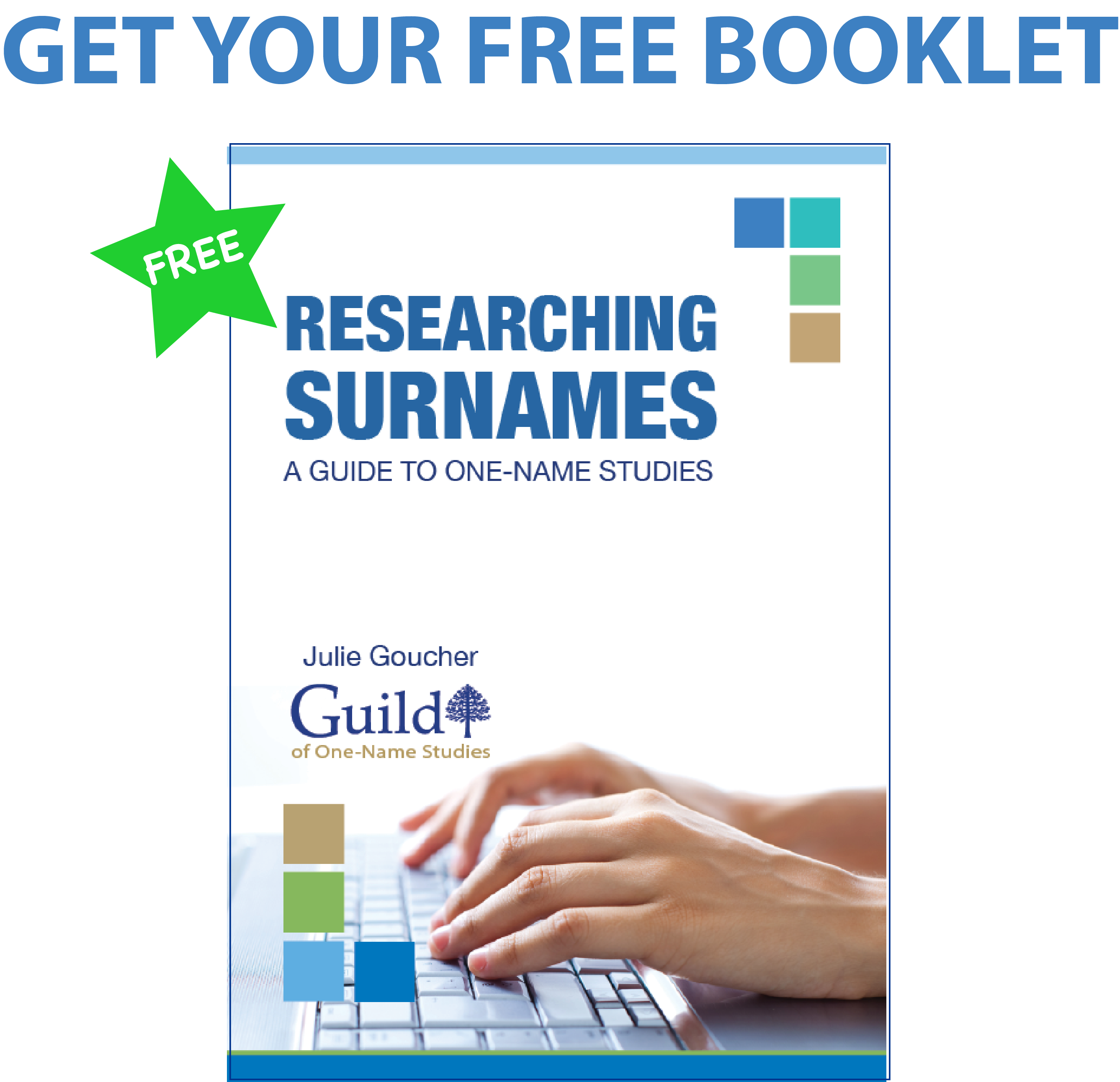 Address for correspondence: c/o Secretary, 113 Stomp Road, Burnham, Berkshire, SL1 7NN, U.K.
Registered office address: Box G, 14 Charterhouse Buildings, Goswell Road, London EC1M 7BA U.K.

© 2013–2020 GUILD OF ONE-NAME STUDIES. REGISTERED CHARITY IN ENGLAND AND WALES, NO. 802048.